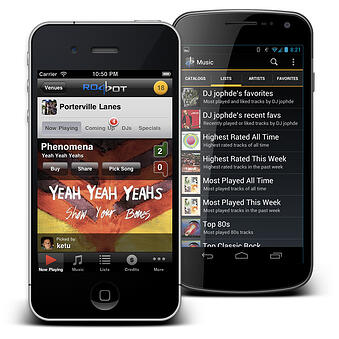 Recently, we announced that Roqbot has raised $1.2 million from Google Ventures and Detroit Venture Partners, with participation from Accelerator Ventures, T5 Capital, and Penny Black, to bring the mobile jukebox app experience to bars, restaurants, stores and other venues across the country!
The People's Jukebox App
Right now, anyone can easily suggest our jukebox app to their favorite bars & venues in a matter of seconds!
Spread the word here! http://roqbot.com/jukebox-reborn
Think of all your favorite neighborhood hangouts where you and your friends could control the music easily from your phones! Just click the link above to easily select your local bars and send them all a message with one click.
In other exciting Roqbot news, we've announced the debut of Mix Machine -- which utilizes both customer and bar owner preferences to instantly create playlists customized for each Roqbot business. If you're a venue running Roqbot Music for Business (or thinking about it), Mix Machine makes it easier than ever to create playlists and get started!
Lastly, in a recent milestone, we have just reached over one million songs streamed and over two times the average check-ins of Foursquare and other locations services on a per-venue basis! Stay tuned as we continue to expand and don't forget to easily Recommend Roqbot to your favorite places today!
Have you tried the Roqbot jukebox app? Send us your feedback, so we can make it even better.