Sonic just made a huge marketing decision to double down on Instagram at this year's Coachella festival. By using Instagram's "buy button" capabilities and by implementing a geo-fence over the festival grounds, Sonic is able to target festival goers who click the buy button to receive one of their new square shakes. This is a product specifically built for instagram, with a square design meant for easy and beautiful instagram photos. Payment to receive the square shake? An instagram post, of course! Example below:
Breaking Down Sonic's New Restaurant Marketing Strategy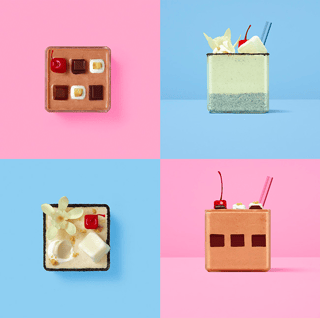 Sonic's CMO, Todd Smith, is quoted in an Ad Week article (linked above) saying,
"We wanted to be the first brand, and especially the first food brand, to have a product that was designed for Instagram, offer it exclusively for sale on Instagram, and then deliver that product within minutes of your order on Instagram."
Break this sentence down and you get some of the most common (and most successful) elements of any marketing strategy, no matter what the vertical: First-mover advantage (or close to it), exclusivity and instant gratification.
They have surely created a foundation for success and with a little help from a large marketing budget and the ability to target a high concentration of millennials, likely quenched in the middle of a desert, we like the odds of this restaurant marketing campaign.
Is Instagram right for your restaurant marketing strategy?
So, is Instagram the right social platform to launch an expensive, in time or money, restaurant marketing campaign? It's tough to say. Below we have outlined the facts:
The Potential:
400 Million Users
3.5 billion 'Likes' per day
90% of users are under 35
Engagement per post (from brands) has grown at a rate of 53% year over year
Globally, Pizza is the most instagrammed food ahead of sushi and steak
Source: Brandwatch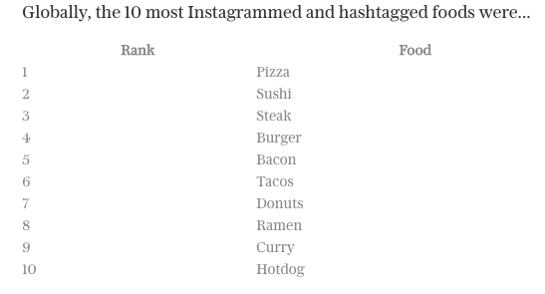 Source: Telegraph.co.uk
Best Practices
Using hashtags and location tags tend to perform better than posts without them
The average engagements per photo are almost double the average engagements per video
Using emojis has a similar effect as using hashtags, with the heart emoji being the most engaging one to use
Of the most used hashtags, 70% were branded - (i.e. For Sonic's promotion - #squareshake is the branded hashtag)
Source: Simply Measured
The Shortcomings
Very few native analytics tools - (caveat: there are companies who will be able to run analytics for an additional fee, but it's tough to get as granular as you can w/ other platforms)
If you're serious about Instagram, you will need to either hire a company or use a variety of apps to do simple things like, create collages, schedule posts, manage multiple accounts, respond to multiple comments etc., making managing the platform a lot more time consuming.
It can be difficult to find and curate great content on a consistent basis - If you're a restaurant, this automatically makes it easier. Food instagrams are extremely popular and easy to take with just your iphone. Still, it can take time.
---
So, back to Sonic. One important thing to notice is Sonic's goal for their campaign. While it will most definitely help with future sales of their shakes, they are offering it for free during Coachella as long as consumers post about it on Instagram. Their goal isn't necessarily people in the door, or dollars in revenue. It's to bring their brand into new spaces (instagram) and build a stronger following and community within that platform. Given the difficulty in tracking Instagram followers or likes to brick-and-mortar sales, this is a smart decision, and one that all brands should strongly consider.
Overall, Instagram is a great platform that allows you to capture the beauty of your food and atmosphere, things you should want to be promoting to your audience. Depending on your current marketing goals, it may not be the platform for you business, right now, but that doesn't mean you should neglect it completely. Many of your customers will be on instagram and if they find an element of your restaurant worthy of sharing, they may want to tag your account and location which is great, free advertising for your business.
Want more tips on social media strategies? Check out our Local Social Media Guide!