The following infographic says a lot about the way mobile technology is influencing lives across the world. For businesses, there are an endless amount of tools available to make your mobile app stand out and more effectively capture customers. Everyone wants a piece of the available gigabytes of storage on your mobile phone. How will you earn it? Here are 7 restaurant mobile app trends that you should consider in 2015.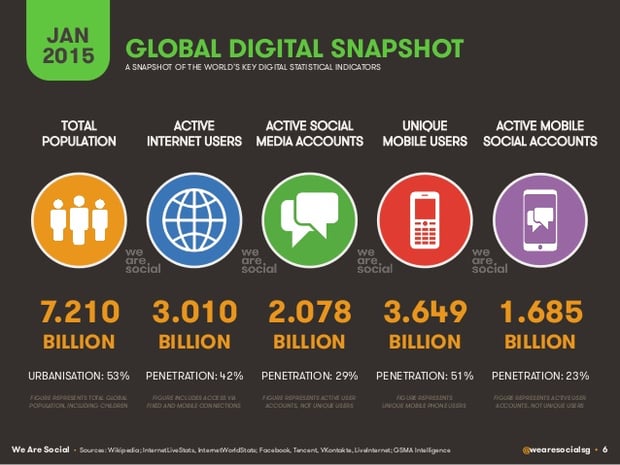 Infographic Source: We Are Social
7 Restaurant Mobile App Trends in 2015
1. Premium Reservations: Akin to surge pricing for uber and lyft is the new concept of premium reservations. Essentially you are giving patrons the option to pay more for access to last minute, "difficult to get" reservations. While this may not sound like something customers will be too thrilled about, OpenTable actually found that this is not the case. Vannie Shu, Global Product Marketing leader at OpenTable says, "When research revealed that many OpenTable diners are willing to pay for last-minute, prime-time reservations at popular restaurants, we launched into exploration." They will be testing out Premium Reservations at popular restaurants in NYC through their app and we think this could become the new social norm.
2. Beacon and location based services: Beacon technology has been a hot topic for a number of years and it's finally coming to fruition. We're seeing a number of feasible use cases being implemented across the restaurant industry including our own Anthem technology which greets app users with a free song play when they walk in a participating venue. Beacons can be implemented into your own restaurant mobile app or into your restaurant environment through third-parties.
3. Gamification: Companies like Schlotzky's and Aurelio's have begun the wave of including gamification in their mobile apps and we're bound to see more of this. Games are beneficial in multiple ways outside of the simple, entertainment factor that we're all familiar with. When consumers play your game it means longer exposure to your brand in-app and increased relevancy for future advertisements. Some companies have also tied their loyalty programs to game use, rewarding customers with points who get to certain levels and encouraging app users to engage more often.
4. Mobile Pay: Harbortech published the results of a recent survey investigating the changing attitudes towards mobile payment technology. They found that, "out of seven categories, including entertainment and retail, one in four people chose the restaurant industry as the most likely to widely adopt mobile payments in the near future." As society becomes more and more acquired to the ease and speed of mobile check-out, it is imperative that this be an option for restaurants who want to compete with that level of customer experience. Already, restaurants like Jamba Juice, Firehouse Subs and BJ's Restaurant are starting to include mobile pay features within their own apps. Customers are showing a preference to be able to leave when they want. Not only that, but reducing the need to wait for a server can increase table turnover times, which in the wake of minimum wage increases, should be compelling for most restaurants.
5. Mobile Ordering: Not necessarily a 2015 trend in the sense of the idea, however, mobile ordering has become increasingly efficient and easy to implement. Starbucks recently rolled out mobile ordering nationwide proving the feasibility even for quick service restaurants. This rolls into the theme that integrating your systems is going to be 100% necessary and you need to start thinking about that now when making IT decisions. Even more compelling, according to the NRA/LevelUp report, an order-ahead feature — offered via mobile app or online — accounts for nearly 5 percent of sales in the first three months after it's introduced. Want success with your mobile app? This might be the way to ensure it.
6. In-App Personal Communication: With talks of Facebook Business Chat being released sometime soon, personal communication with businesses through online messages is looking to be common practice. There are 164 million daily active users on Facebook in the U.S. & Canada. What better way to take advantage of this daily usage than to spark communication with them directly through the app? The reality is, we live in a world where picking up the telephone is a bother and an antiquated way of doing things. With the increasing number of restaurant patrons growing up with mobile phones, it seems like a logical next step to add in communication through messages instead of via telephone.
7. Twitter for ordering or reserving tables: Have you ordered your Dominos pepperoni pizza through Twitter yet? Because you can... if you want to. This trend of making things much more efficient trickles all the way down to Twitter where companies are capitalizing on the business to consumer relationship you can create on this platform and allowing you to order or reserve tables. An article from UK's the Telegraph says it all. Referring to Dominos -- "Mr Doyle told USA Today that the company has about 250 technology employees at its headquarters in Michigan, about five times more than a decade ago, while more than half of sales at the world's largest pizza chain already come through digital channels."
---
These 7 trends leave you with a few themes:
Do more with less
Create efficiency
Personalize your communication
Cater to your customers on the channels they use the most
Do you agree with all of these trends or have anymore you are excited to see come to life in the near future? Comment below and let us know!
---
Rockbot has teamed up with Bagger Daves, a leading burger and beer chain, to figure out how to develop, launch and run a successful restaurant mobile app strategy. Click the link below to download your copy!