It's no surprise that an all-in-one POS systems can streamline operations at your restaurant. That's, after all, the point of an all-in-one system. However, what if I told you that your restaurant POS could not only save you time, but also save you money? What if I told you it could make you money? With a keen eye on your restaurant POS analytics, you can make data-driven decisions about the future of your business: which marketing campaigns you invest in, which employees you promote, which menu items to retire, and more.
We are proud to have Allie Tetreault from Toast POS contributing to our blog today:
Your POS System Can Make You Money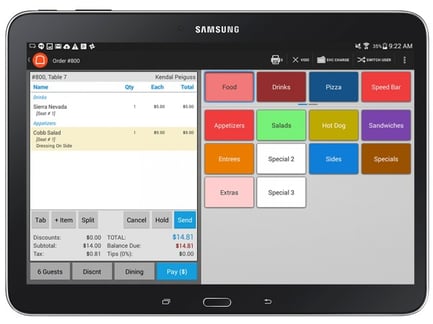 Customers of Toast Restaurant POS have improved turn times by 15%, staff tips by 30%, and loyalty signup rates by 10x. Here are some of the ways they increase revenue with their restaurant POS analytics:
1. Learn What Your Guests Love About Your Restaurant
With a customer relationship management (CRM) system that captures your customers' contact information and order history, you can track guest behavior to learn what guests love (and hate) about your restaurant. Which guests spend the most money? What do they spend that money on? Is there one guest who keeps coming back? View this individual customers' detailed information like average check size, days since last visit, and most frequently ordered items. With this information, you can create targeted email campaigns to these customers and learn about the guest experience at your restaurant.
2. Improve Your Restaurant Loyalty and Gift Card Programs
Digital restaurant loyalty and gift card programs have a lot of potential, if they're implemented correctly. The average amount loaded on a digital gift card is around 10-15% more than a plastic gift card, and on average recipients spend 20% more than the value of their gift card. Similarly, consumers spend 46% more with businesses who have loyalty programs. These programs allow you to build a customer contact database of hundreds of thousands of guests that have dined at your restaurant and loved it. With data on how your programs are growing, you can implement new strategies to increase their effectiveness. For example, you might want to ask customers to join your loyalty program at the end of their transaction, after having an excellent experience. You could offer this option as a checkbox on your handheld tablets, so customers can just check "yes, I want to join your loyalty program" after paying, signing, and tipping.
3. Test Different Specials for Your Online Ordering Menu
Online ordering opens up an entirely new revenue stream. When online ordering is integrated within your POS, you not only save an average of 13% commission per order, you also get access to reports on the success of your program. With an all-in-one POS system, you don't have to spend 5-6 hours updating both your in-house menu and online ordering menu; they can sync immediately. Some people take it a step further, testing new specials on their online ordering menu and using the results to determine whether they would be good additions to the main menu. The possibilities are endless!
4. Track Your Most and Least Productive Employees
How is labor translating into sales? Labor cost percentage is a very important metric to watch, through detailed analysis of cover counts, revenue center analysis, and productivity by server or cashier. With this information, restaurant owners can make data-driven decisions about whether there are too many people or too few people working at a given time. If Sam served five tables and Julia served two within the shift, then maybe that's an indicator that you can cut labor hours - or that you can cut Julia, and promote Sam. You can also view sales exception reports, which show the amount of voids, discounts, or refunds within a specific timeframe, and determine whether your team might need an extra training session or a reminder during their pre-shift meeting to get back onto track.
5. Give Your Menu a Boost with Product Mix and Restaurant Inventory Reports
Your menu is your primary marketing tool; it's the last thing a guest sees before they make a transaction. It shouldn't be hastily thrown together; according to Chef Brian Duffy, it should actually be updated four times a year. An all-in-one restaurant POS can provide accurate inventory and purchasing data, giving restaurant owners more power over their food and drink costs. Track specific menu items' popularity with product mix reports; track specific menu items' profitability with food cost percentage reports. You can break down reports by drink menu, breakfast menu, modifiers, and more, and you can even drill down how your menu is performing by time and day of week. Every day, easily identify the items that are directly contributing to restaurant sales — and consider dropping those that aren't.
For more ways to get a significant return on investment from your POS system, check out the Restaurant Point of Sale ROI Calculator.
Allison Tetreault is a food writer excited about the future of the restaurant industry. When not reading up on restaurant industry news, she is managing the
Toast Restaurant Management blog and creating valuable resources for restaurateurs. She is the Content Strategist for Toast, an all-in-one POS and restaurant management system with online ordering, restaurant loyalty, enterprise management, and more. Follow her on Twitter or LinkedIn.