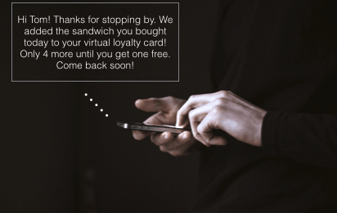 Hundreds of customers walk in and out of your restaurant on a daily basis, each unique in their ordering habits, personalities and needs as a diner. Some are cost conscious, others short on time. You have the group that comes in every Wednesday for your kale salad special and the group that comes in Friday nights for an after work happy hour. These are the people that keep your business running.
Today we're going to cover how to use beacons to get more of these repeat customers and keep the ones you already have.
---
Personalize your outreach.
A study by Infosys saw 59% of consumers surveyed reporting that a personalized shopping experience noticeably influenced their purchasing decisions.
Using beacons to grow your restaurant is a great way to engage customers as soon as they walk in the door. One thing you don't want to do is abuse that power. When beacons first came out it was common for consumers to receive unsolicited coupons thus associating this type of marketing with spam. The use cases below will help you understand how to use beacon triggered messages in a non-spammy, personalized way.
Make things easier
The picture above is a great example of this. Although rewards are nice, doing extra work while you're on your lunch hour is not.
Scenario: Imagine seeing this message while you're walking out the door. Without doing anything out of the ordinary, you were thanked for coming in and your order was added to the loyalty promotion going on that month. No paper cards, no extensive sign ups and no linking your credit card.
Answer their most common questions
If you asked your employees to tell you about the questions they get asked every day I bet you would see a lot of overlap. At the host stand, for example, your customers want to know how long it will be until their table is ready or if the food they ordered over the phone is available for pick up. Use proximity marketing in your restaurant to tell them the answers to these questions before they even ask.
Scenario: You walk into a crowded chili's. There is a line 7 people deep waiting to put their name in and you are unsure if you want to stay, nevermind wait to find out how long it might be until you can get a table for 4. All of a sudden you get a notification from the restaurant that says, "Hi! Thanks for coming in. We're a bit busier than usual tonight and the approximate wait time is 40 minutes. If you're short on time we hope to see you again soon! If you decide to wait (and we promise it's worth it), please let our hostess know! Thanks!" Within seconds you have saved both your customer and hostess time.
Suggest things you know they like
In today's world, customers are distracted. That's why the power of suggestion is so important. By understanding your customers purchasing habits and using beacons to trigger a timely notification, you can make sure everyone is walking out with the things they love.
Scenario: You're running to grab lunch quickly and pick a place nearby that you frequently go. You usually order a pastrami sandwich, a bag of chips and an iced tea. While you're waiting in line, head down, sending emails from your phone, you get a push notification from your lunch spot telling you about the new sandwich special they have on the menu this week. Guess what, it's a creative take on the pastrami you love so much AND it comes with a drink and chips. Instantly, what could have been a stressful lunch focused on utility turns into a happy experience you can appreciate.
Thank them for their loyalty
A good old fashioned thank you goes a long way these days. Whether you are rewarding a repeat customer or just sending them a quick note to let them know you notice their loyalty, beacons allow you to use customer data to trigger messages that help you put this into action.
Scenario: You go to your favorite bar almost every Thursday night to catch up with friends. It's the last Thursday of the month and you walk in the door simultaneously receiving a notification from your beloved bar. "Hi, Chrissy. Thank you! You have checked in at our bar once a week for the whole month and we appreciate it. To say thank you we would love to buy you a drink. Please present this to your bartender in order to redeem! Thanks for stopping in." A personal message like this leaves you feeling appreciated and happy that you're supporting a place that actually cares about you!
---
Key Takeaways: Stay personal, utilize the ability of beacons to trigger timely messages and thank your customers for their ongoing support! Curious about how you might be able to implement something like this? Check out companies like Splick.it and Beaconstac, that can help you through the entire process.
Learn more about how to use beacons to grow your restaurant or bar by checking out our free white paper, Beacons and the Personalization of On-Premise Experience. Click below to download!