For the first time in sports history--and on the biggest screen in the NBA--the Cleveland Cavaliers have teamed up with social music service Rockbot to let fans at the Quicken Loans Arena pick the music playing before NBA Finals games.
You may know Rockbot as the jukebox app that lets consumers pick the music playing at restaurants, bars, and cafes via their smartphones, but the company has quickly expanded to offering its music experience at concerts, casinos, festivals, and even globally-televised sporting events like the NBA Finals.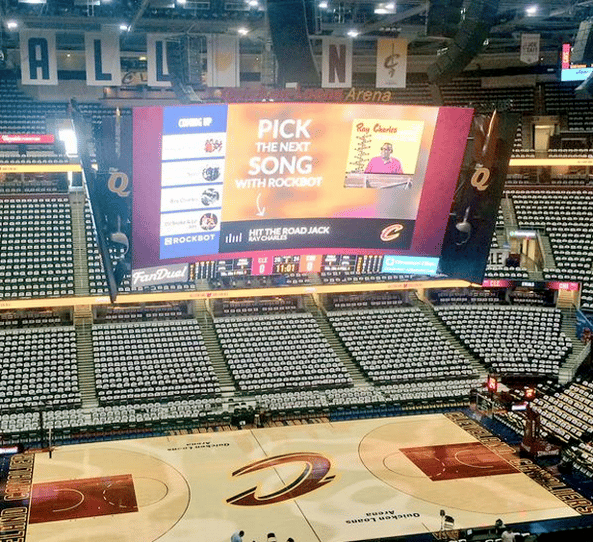 The Cav's Humongotron, pictured above, is the single largest scoreboard screen in any arena and the perfect platform to engage fans before, during, and after games. During pre-game festivities, Humongotron attracts the attention of fans via Rockbot's gigantic social music display, featuring the music that's currently playing, users who are requesting and voting on songs, Instagram photos, tweets, and custom messaging from the Cavaliers to their fans.
As fans use Rockbot's jukebox app to check in, pick songs, vote on the playlist and share with friends, Humongotron displays their actions in real-time (filtered by Rockbot for appropriate use). Rockbot allows the Cavs and other businesses the ability to control which artists, songs, and genres are enabled for selection.
To date, the Cavs are undefeated at home when Rockbot takes over the screen allowing fans get to DJ. Recently, the Cavs' NBA Finals opponent, the Golden State Warriors, discovered Rockbot before Game 3 and tweeted a video to hype up their fans at home.
With a majority of consumers using smartphones and most of today's businesses putting digital screens on their walls, it's not hard to imagine a future when consumers everywhere use their phones to interact with the TVs and entertainment at a number of venues, from bars to basketball arenas. The Cavaliers are only one of the many brands utlizing Rockbot and other technologies to give customers a more engaging experience while they're on site.
If you're not attending Game 4 tonight at the Quicken Loans Arena, you can still download Rockbot on iPhone or Android to pick the music playing at thousands of restaurants, bars, and other destinations across the U.S., including major brands such as Buffalo Wild Wings, JetBlue, Johnny Rockets, and Caesars Entertainment. To learn more about Rockbot for businesses and brands, visit rockbot.com/enterprise.