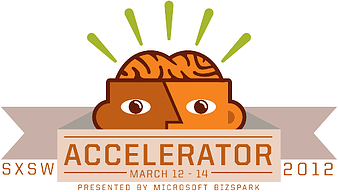 We're at South by Southwest this week, and today we're spending some time with this year's finalists at the SXSW Music Accelerator – a competition between the best new music companies in the tech industry.
Last year, over four hundred companies entered the contest, and after some tough competition, our team here at Roqbot won the Grand Prize and was named Best Music Tech Company at SXSW. However, we're big supporters of the other finalists from last year and wanted to highlight each of them now – one year later – to share an update on all of their progress.
RootMusic/BandPage (San Francisco CA) makes the application BandPage on Facebook with over 31 million unique users a month. RootMusic's BandPage now services Facebook Pages for 500,000 artists, which is up 250,000 over the last six months. They're also launching a Billboard chart along with new features that integrate with Facebook's Timeline.
Next Big Sound (Boulder, CO) tracks hundreds of thousands of artists across multiple websites and social networks, and lets professionals in the music industry see social media data, traffic and other data all in one centralized dashboard. Next Big Sound is currently expanding with a new office in New York City and has partnered with Billboard to launch their new Social 50 list.
Air Guitar Ltd (Monmouth, United Kingdom) makes a product called the AiR Guitar, which turns a band t-shirt into an instrument, using a webcam and an augmented reality website. In 2011, the company won Best Bootstrapped Music Company at SXSW and is likely rocking out with their augmented reality-enabled t-shirt somewhere at SXSW this very moment.
algoriddim (Munich, Germany) specializes in cutting-edge audio and multimedia applications for Mac, iPad, iPhone, and iPod touch. The company's djay product was featured among the best apps in App Store Rewind 2011, and djay for iPad was selected as the "iPad App of the Year" in Germany, UK, France, and many other countries, as well as the first runner-up in the U.S.
Exfm (New York, NY) is a browser extension for Chrome that runs in the background while you browse, creating a music library from every MP3 file you find. Recently, the company has advanced from around 75,000 active users to more than 300,000 and going strong.
Herd (Ontario, Canada) is a music service for mobile device users hoping to discover and share local music. Recently, Herd debuted a new mobile iteration that focuses more on sharing tunes with friends and getting recommendations.
Shuffler.fm (NE, Amsterdam) is an audio magazine made by music blogs, where you can navigate thousands of music blogs without having to weed through them all. Late last year, the startup expanded by launching an iPad app curating blogs and content in a Flipboard-style layout of words, pictures, and streaming audio.
Congratulations and best of luck to all of these great companies in 2012. And finally, take a minute to check out all the contenders at this year's SXSW Accelerator, and tell us your favorites in the comments. We'll post an update soon with a detailed look at the big winners of 2012.