Social Music Startup Announces Key Partnerships with Top Brands, New App Version 2.0, and a Complete Brand Redesign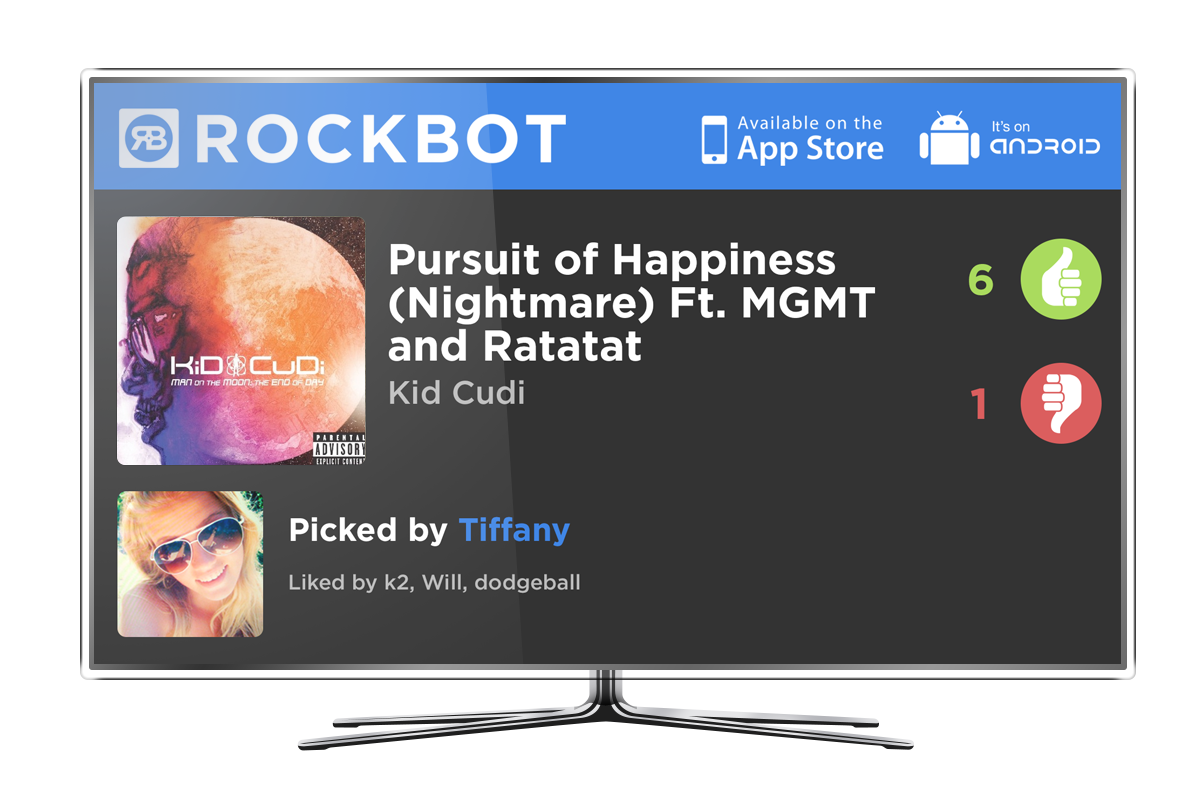 Welcome to Rockbot (formerly Roqbot)
After raising $1.2 million from Google Ventures and Detroit Venture Partners to change the way music is experienced in bars, restaurants, and stores, today we're officially announcing new key customers in Miller Lite and Lucky Strike, as well as the official 2.0 launch of the new Rockbot app and a complete brand redesign (formerly 'Roqbot').
Rockbot + Miller Lite at SXSW and Beyond
Who's ready for another round? Rockbot has teamed up with Miller Lite to bring a social, mobile, and branded music experience to SXSW and beyond at Austin's most popular bars for thousands of consumers.
"As the official beer sponsor of SXSW, we wanted to celebrate the intersection of music and technology," says Royce Wills of MillerCoors. "Rockbot has been a great way to associate our brand with music and engage both local drinkers and SXSW attendees with a Miller Lite experience."

At SXSW, Rockbot also partnered with Samsung, Klout, Say Media, TechSet, Silicon Valley Bank, Goodwin Procter, and others to bring social music to parties across Austin.
Rockbot + Lucky Strike, All Over The U.S.
We are also announcing a new key customer and partner in upscale bowling chain Lucky Strike Lanes, which has officially deployed Rockbot to all 19 of its U.S. locations in major cities across the country to better engage customers.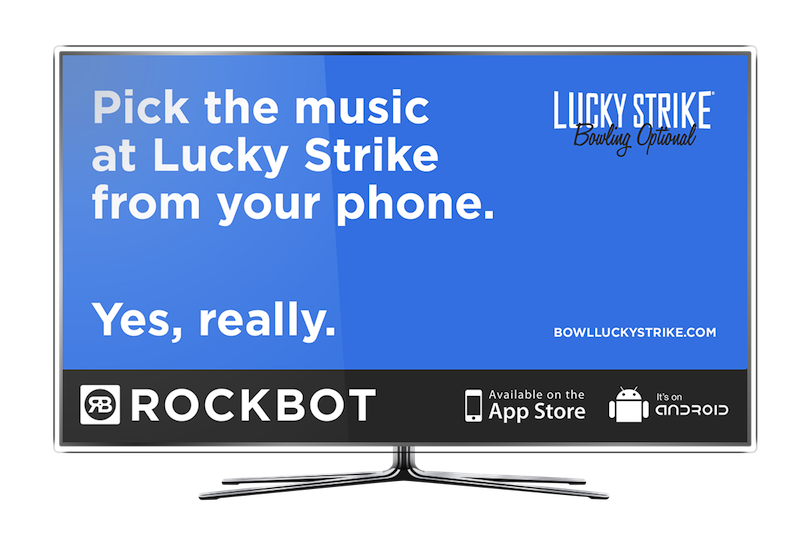 "Rockbot has enabled Lucky Strike to develop and maintain an environment wherein our customers are engaged with the music experience and are therefore staying longer," says Steven Foster, Owner and CEO of Lucky Strike. "We have found that the social media component has helped tremendously in getting our brand out there -- we have customers not only sharing their check-ins at our locations but also sharing their music selections."
Rockbot + The Fall of 'Background Music'
While "background music" companies attempt to rebrand themselves, the same sleep-inducing tunes continue on repeat to the frustration of "over 150 million consumers" and staff every day – according to data from Mood Media – but without directly engaging a single one.
Today, we're announcing that Rockbot has engaged over two times more consumers than Foursquare per location by letting our users request songs, vote on the music, unlock rewards and share their experience online. Going beyond the check-in to entertain consumers throughout their in-store experience, Rockbot sees an average user spend over 30 minutes per session engaging with the app.
Rockbot Business Music Service from Rockbot on Vimeo.
Rockbot, Version 2.0 -- New App, New Brand, New Name
In addition to new key customers, today we've launched Rockbot version 2.0 with a completely redesigned and rebranded product to reflect our growing consumer base across segments such as bar/tavern, restaurant, retail, and destination entertainment. The new 2.0 product is renamed Rockbot (formerly 'Roqbot') to express a more universal sentiment among users, and includes a new interface, color scheme and logo. More significant changes to the new app include a series of new social engagement features to entertain customers, furthering Rockbot's position as the most disruptive and relevant new business music service for today's mobile & social world.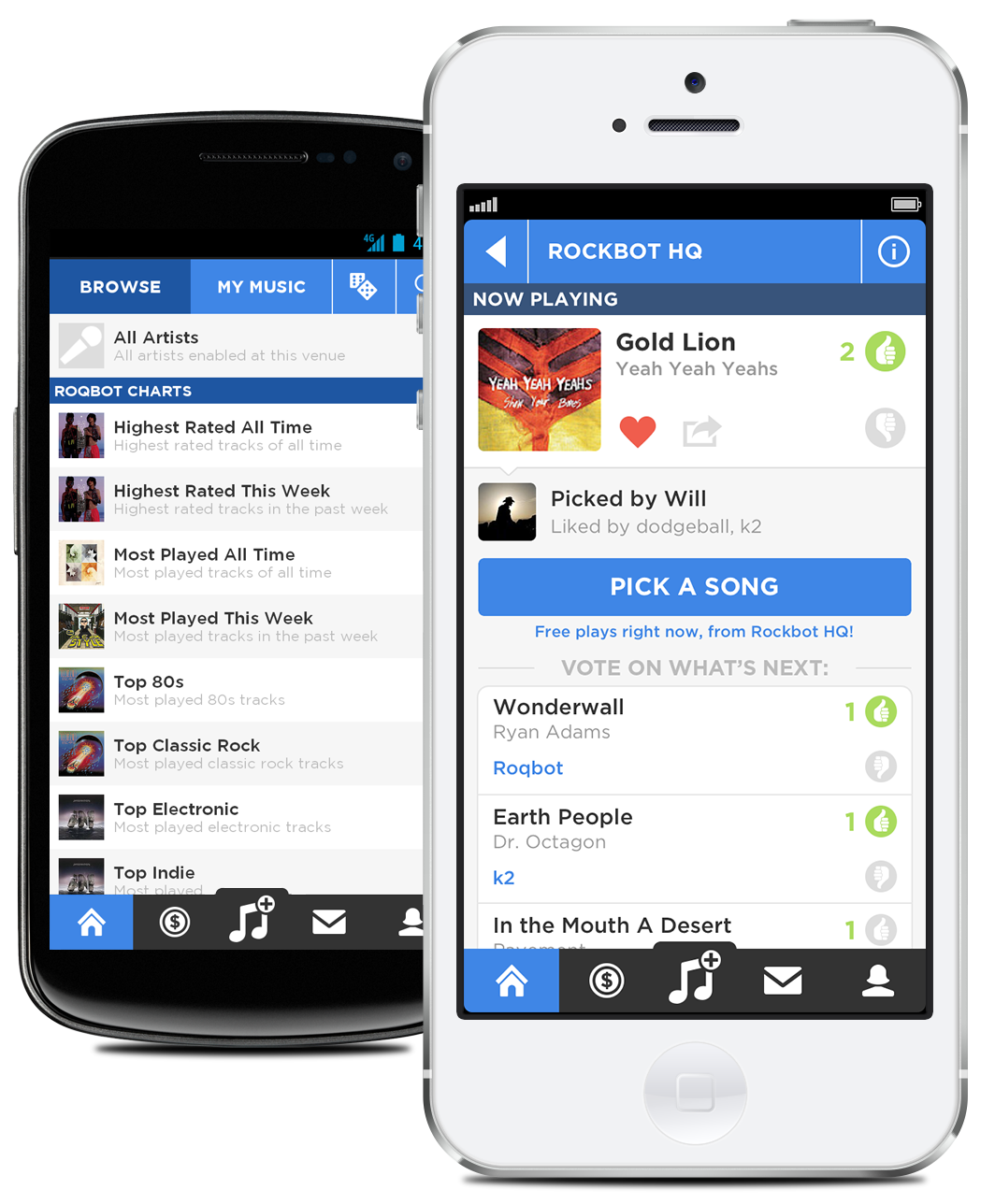 "We go out to restaurants, bars, and other venues because we want an engaging, social experience -- we enjoy being with our friends and discovering new entertainment together," says Rockbot CEO Garrett Dodge. "Today's businesses know there is a better way to engage their customers than conventional music solutions that missed the social and mobile elements so vital to the Facebook generation."
Try Rockbot in your restaurant, bar, store, or business today for free, or call us at (415) 813-6020 x 4 for more information.
####
About Rockbot
Rockbot provides customized music for businesses that engages customers directly with a social and mobile jukebox app while letting managers easily control their vibe with a business music app. Rockbot music is fully licensed for business and includes a library of more than seven million songs. The company's investors are Detroit Venture Partners and Google Ventures among others. Advisors include current and former music industry executives. Rockbot was named Best Music Tech Company at South by Southwest, and is currently working with businesses and brands in major U.S. cities. For more information, visit http://rockbot.com.