Introducing Rockbot (Formerly Roqbot)
Today, we're excited to announce BIG changes to our social music service. First of all, what was formerly 'Roqbot' has now officially evolved into 'Rockbot'. Above, you'll notice our new logo, color scheme, and spelling -- let's face it, the 'Q' in was a little confusing, and especially for our users discovering the app after a few drinks. We've designed the new Rockbot brand from scratch to strike a more fun and universal tone among a quickly growing consumer base.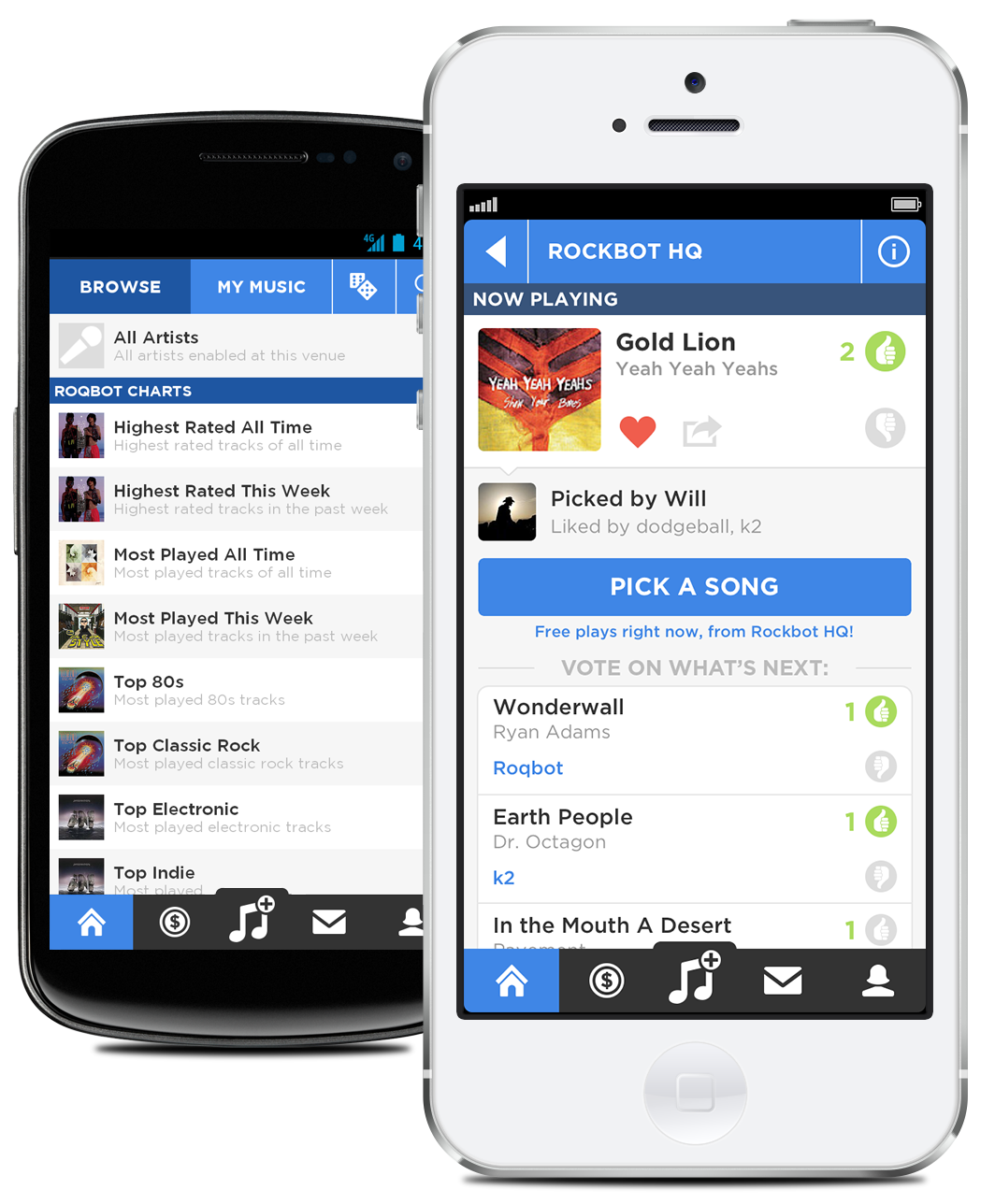 The New App - Rockbot 2.0
More importantly, we would like to officially introduce you to the brand new consumer app, which you can download here. The new Rockbot includes a simplified user interface that brings the 'now playing' music and the queue of upcoming song into one view. A fun new color scheme is revealed throughout the app as you 'like', 'dislike', 'favorite', and share different songs. Rockbot is also more social than ever -- we've added a series of engaging social music features, advanced sharing to add photos and tags friends, the ability to 'favorite' songs for personalized playlists, and easier payment to play songs faster.
Rockbot On A Roll!
This past year, Rockbot added hundreds of venues across the country, and more are signing up every day. This is only been possible because of our incredible users and the businesses that champion our service. Thank you for checking in and rocking out, thank you for sharing your feedback and ideas, and thank you for sharing Rockbot with your friends as we strive to make the music at your favorite places more fun and social for everyone!
###
Rockbot provides customized music for businesses that engages customers with a mobile & social jukebox app while letting managers easily control their vibe with a business music app. Rockbot music is fully licensed for business with a library of over 7 million songs. For more information, visit http://rockbot.com.