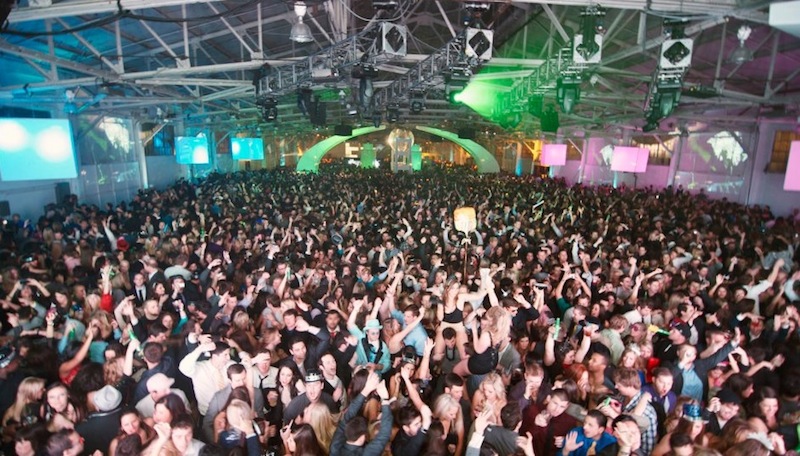 San Francisco! We want to give you two free Wintersalt tickets.
On Dec. 28th and 29th, the Wintersalt Music Fest will take over San Francisco's Fort Mason Festival Pavilion, along with a wild line-up. Winning free Wintersalt tickets means seeing atists like Zedd, DJ Shadow, Dillon Francis, Diplo, Travis Barker, Paper Diamond, and St. Lucia take the stage the weekend before New Years to a close out 2012 with a big party.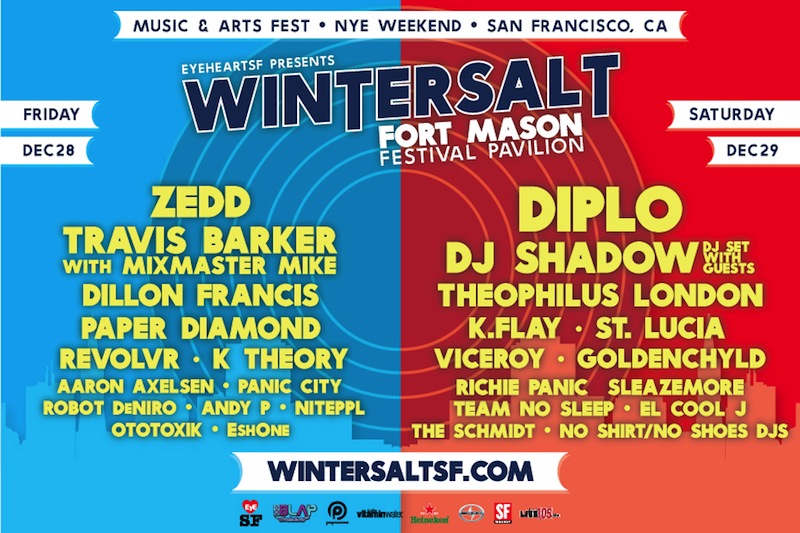 How To Win Free Wintersalt Tickets...
Starting right now, you can officially win two free Wintersalt tickets for the Saturday shows (only), and your chances are good. Our Wintersalt 2012 giveaway is very simple and very fun -- anytime between now and Tuesday, December 25th, head over to Gap on Chestnut Street in The Marina and Be the DJ.
Wait, what does that mean? When you're shopping at Gap, download the free 'Roqbot' social jukebox app on iPhone or Android, which lets you control the music playing at the store right from your phone! Simply use Roqbot to 'check in' at Gap, pick a song, and share your play on Facebook or Twitter to automatically enter. We'll give you until December 25th to enter -- then we'll gather everyone who shared their song play and pick a winner at random! Read the official rules at the end of this post, including information on the prize, qualifications for entry, winner selection, and prize delivery.

After You Win Free Wintersalt Tickets...
See where else you can use Roqbot in SF -- aside from Gap, we've got a great SOMA cocktail lounge (Azucar Lounge), a Lucky Strike SF bowling alley, the best north beach sports bar, and more. And if you win free Wintersalt tickets for Saturday, you may also want to check out Eye Heart SF's Streets of San Francisco New Year's Eve party with A-Trak, DJ Craze, & Sam Issac, also at Fort Mason.
Tell us who you think the must-see act is in the comments below. Then download the Roqbot social jukebox app and head over to Gap on Chestnut Street!
####
OFFICIAL RULES -- Roqbot's Wintersalt 2012 Ticket Giveaway at Gap
The Prize
Two (2) tickets to SATURDAY SHOWS ONLY at Wintersalt Fest SF 2012
Qualifications For Entry
To enter Roqbot's Wintersalt 2012 Ticket Giveaway at Gap giveaway, one must:

Be 18 years of age or older
Be a resident of the San Francisco Bay Area
Enter between 12:00 am PST December 10, 2012 and 11:59pm PST December 25, 2012
Be present at the Chestnut Street Gap store in the Marina District of San Francisco upon entry
Have an active Roqbot username and account
Use your personal Roqbot account to 'check in' to Gap's Chestnut Street location, request your own song into the queue, and share the play on Facebook or Twitter
The Deadline
Any entries submitted after 11:59pm PST on December 25, 2012 will not be accepted.
The Winner
On December 26, 2012, after the entry period, one entrant will be chosen at random and become eligible to claim the two (2) tickets.
Winner Notification
The prospective winner will be notified by email immediately and have 24 hours to respond by email or phone in order to claim the two (2) tickets, confirm eligibility, and provide necessary shipping information for ticket delivery.
If the entrant fails to respond within 24 hours, another entrant will be chosen at random.
Prize Delivery
Once the prospective winner has claimed the giveaway prize, confirmed eligibility, and provided shipping information, the two (2) tickets will be shipped to the winner by two-day shipping, next-day shipping, or held at the box office, depending on the date and time of confirmation of the winner.