Just in time for Black Friday and the holiday shopping season, we're excited to announce the launch of Roqbot's new in-store business music service for retailers.
HELLO, RETAIL!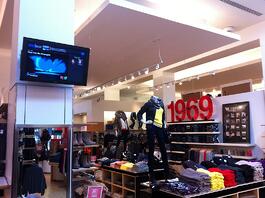 Roqbot now replaces traditional background music services in your favorite stores – from enterprise retail companies to small local businesses. The offering provides each store with a dynamic stream and a customized music library from our six million song master catalog. The Roqbot music stream is delivered to each business via an internet-connected digital media player, which also allows for advanced programming functionality. Like Roqbot's service for bars, restaurants and gyms, standard features include playlists scheduled by time of day and a stream that automatically adjusts to the preferences of customers in the store.
Customize the Shopping Experience
Upon arriving at the store, shoppers use Roqbot's iPhone or Android app to "check in", browse a customized catalog, request their favorite music (from holiday tunes to recent hits), and vote on others' song picks – like a social jukebox app. Roqbot also incorporates top social networking sites, such as Facebook, Twitter and foursquare, so users can share their favorite songs with friends and connect with other "DJs" using the service. Additionally, shoppers who use Roqbot will discover exclusive discounts and rewards through the app.
Engaging Customers with In-Store Music
The Roqbot retail offering also features in-store digital displays to create a rich visual experience for customers while reinforcing the retailer's promotional efforts. The screens display the song that is currently playing, users who have "checked in", and product images. Together, Roqbot's mobile app and on-screen display provide retailers with a multi-channel branded music experience, while also driving dwell time and purchases from holiday consumers.
In working with businesses, we have seen great value in reaching consumers while they're actually at the point of purchase. By engaging customers with a mobile app and digital displays in the store, Roqbot picks up where many other location-based networks leave off – the on-site experience. In addition, the location-specific Roqbot music library enables a hyper-local music discovery experience, and we're excited to work with partners like Noise Pop and A2IM on featuring up-and-coming artists.
Cisco Powered Digital Signage
To ensure high-quality audio and visual streaming for retailers, Roqbot has partnered with consumer networking leader Cisco Systems, Inc. and is currently using the company's new digital media player and displays at the Chestnut Street Gap store in San Francisco. In addition to serving enterprise companies like Gap, the Roqbot system is easily run by businesses of all sizes through a web browser or on other digital media players such as Google TV and Roku.
Jukebox Anywhere
Our goal is to let you engage with the music anywhere you go. With this new offering and Cisco partnership, Roqbot brings to market a business music service that meets the needs of enterprise retailers and adds to the excitement of this year's holiday shopping experience.
For media inquiries regarding Roqbot's new retail offering, please contact us at info@roqbot.com.