50 Years Ago Today: When four lads from Liverpool landed at the JFK airport, stepping off PanAm Flight 101 and onto U.S. soil for the first time, they created a wave of British Invasion music that has changed rock and roll forever. In honor of this moment, JetBlue has launched a special playlist at T5 (Terminal 5), where travelers can specifically select and listen to songs by popular British Invasion artists using the Rockbot social jukebox app, and enjoy a slice of music history while awaiting their next flight.
JetBlue's T5 is no stranger to music, as the terminal has hosted big-name concerts and DJ's since its opening five years ago. The 'Live from T5' series recently featured the likes of Taylor Swift, Cee-Lo Green, Phillip Phillips, Emili Sande and Lady Antebellum. Now customers can enjoy these events and even 'DJ' the terminal themselves, with the use of Rockbot.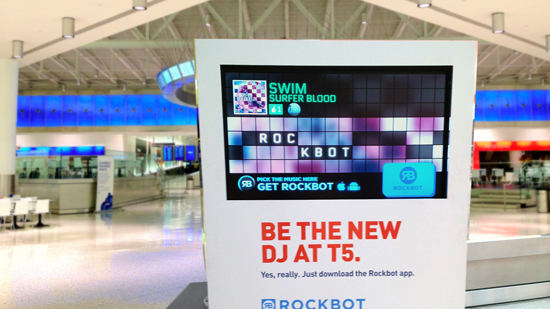 British Invasion Music Playlist
To celebrate the 50 year anniversary of the Beatles landing at JFK, we decided to focus our playlist on the earlier period of the British Invasion. Check out the list below, which features a sample of the artists being played at T5, and be sure to get the Rockbot app so you can pick the music!
The Beatles
The Rolling Stones
The Who
Donovan
The Animals
The Kinks
The Hollies
The Yardbirds
Zombies
The Moody Blues
The Spencer Davis Group
Them
Petula Clark
Herman's Hermits
The Troggs
The Small Faces
Dusty Springfield
Manfred Mann's Earth Band
Wayne Fontana And The Mindbenders
Marianne Faithfull

Look for the special Rockbot screens when traveling through T5, and for more information on using Rockbot, whether you're a business owner or bar goer, visit rockbot.com.