International fitness chain and #1 Global Franchise of 2014
Anytime Fitness
has announced that
Rockbot
is the company's 2015 Vendor Of The Year. With a network of over 3,000 locations nationwide voting on 40 official vendors, the award was presented to Rockbot at this year's
Anytime Fitness annual conference
in Nashville, TN. Our team at Rockbot is incredibly humbled by this honor and more grateful than ever to be part of the Anytime Fitness family.
Founded in 2002 and named the #1 Global Franchise by
Entrepreneur Magazine
, Anytime Fitness has seen an annual revenue growth of over 14% with impressive future plans to open 350 locations per year for the next 6 years. In working closely with the Anytime Fitness network, our team has witnessed first-hand the tremendous value of investing in franchisees and instilling a culture of healthy competition and support to make each location successful. Part of that investment involves carefully vetting and providing the highest quality vendors to give each franchisee a competitive edge--and we are proud to be among such a strong network of Preferred Vendors.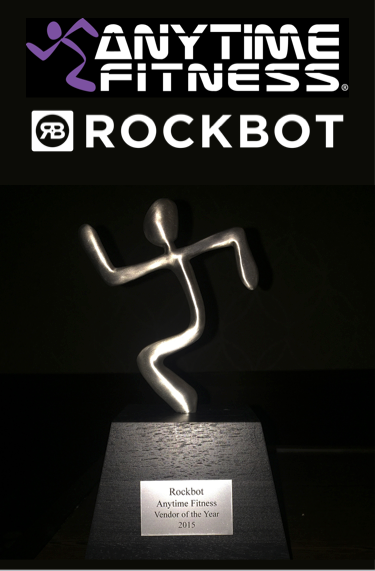 After only one year within the Anytime Fitness network, Rockbot has become the preferred licensed gym music provider for over
300 locations
--delivering smarter custom background music, enabling branding opportunities on club TV screens, and empowering nearly 32,000 members to choose their favorite workout songs while at the gym. So far, "The Motto" by Drake is the most popular Anytime Fitness song pick of 2015. To guarantee that each club's music was set to perfect pitch, Rockbot's in-house music curation team partnered with corporate to create a custom Anytime Fitness Station, prioritizing playlists of genre's like Modern Rock, Pop and 80's which are updated several times each month. This level of customization allowed each franchisee to quickly and easily activate their music stations and allow for members to engage while ensuring the music fits with brand values.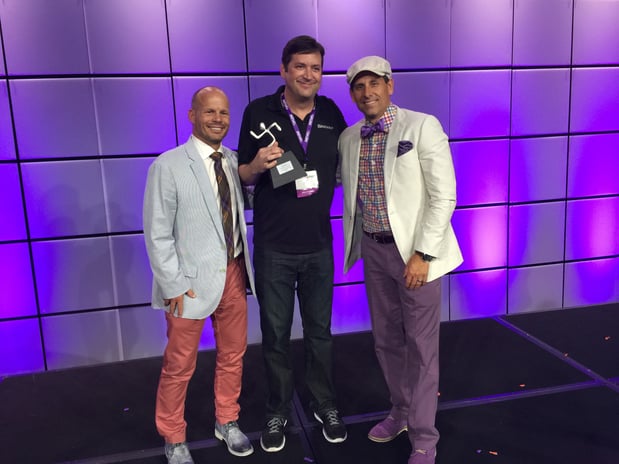 Anytime Fitness clubs also utilize the TV screens at their locations to feature Rockbot's customized Social TV display. Instead of displaying only news or sports, the TV screens have become a powerful engagement platform, showing the music currently playing, social media content, real-time song selections from members, the profile images of users checked-in, upcoming songs, and Anytime Fitness messaging. Many of the clubs have also implemented
Rockbot Anthem
, a recently launched beacon technology that automatically detects when members have arrived at the location and instantly adds their favorite music to the gym's playlist.
In an industry that relies on personal relationships, Rockbot gives Anytime Fitness staff an opportunity to track member engagement, see who the top DJ's are, and inspire social interaction around something that everyone loves, music!
Our team at Rockbot would like to thank Anytime Fitness and every single franchisee for their support. We are honored and we look forward to our continued partnership!

About Rockbot
Rockbot
is changing the way we interact with music everywhere we go. Today's leading restaurants, bars, retail stores, and gyms select Rockbot for it's combination of smart, customizable background music and the world's #1 rated jukebox app that lets customers influence the music playing at their locations. Rockbot's
in-house curation team works with each brand and business to ensure that your customized music catalog is within the desired parameters of your brand and that your customers can only pick songs that you've approved. By connecting with your TV screens, sound system and social media channels, beacon technology, and more, Rockbot allows your marketing and IT teams to get more out of your existing digital assets. If you are interested in learning more about Rockbot's enterprise solutions, click below and request a live demonstration!