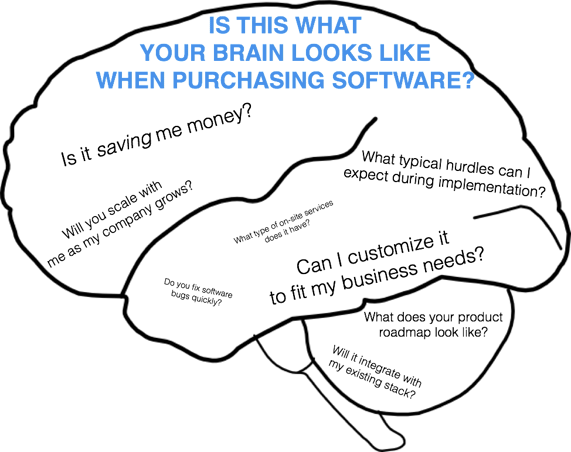 Evaluating software is a difficult, time consuming process for every industry, not just the restaurant industry. What makes the restaurant industry unique is that they are still dealing with a variety of archaic architecture, holding a lot of crucial data, that can be difficult to replace after so many years. Unfortunately, you can't stop the inevitable, but you can make sure you're making savvy decisions for your business by being prepared with the right questions. Cut through the hundreds of restaurant technologies and pick out only the best with this set of questions:
1. How will it integrate with my existing stack?
2. What typical hurdles can I expect during implementation?
3. Tell me about your customer service team?
4. How can I quantify my return on investment and how fast will I see it?
5. How does your technology (and pricing) scale as my company grows?
6. Do you fix software bugs quickly?
7. How easy is it to customize your product to fit my business needs?
8. What does your product roadmap look like?
9. How do you usually run your pilot programs?
10. What are your payment terms? (do you charge per seat? Are we locked in for the length of the payment period?)
11. How big is the learning curve and when should I expect it to be running 100%?
12. Will I need to extract any data from my existing systems?
13. (especially if dealing with payment processing companies) Have you ever experienced a security breach and how did you deal with it?
14. How have restaurants, with similar business models to mine, used your product?
15. (especially for a newer company) Does the company have long term goals to stick around or do they have a sizeable enough customer-base to keep doing business long term?
16. Will training be held on site, online or through written documentation?
17. How do you handle product updates and relaying that knowledge?
18. (If it's a b2c & b2b product) Do you offer support to my restaurant consumers who have issues with your product?
19. Do you have an open API?
20. Is there reporting functionality and can I create custom reports or are they pre-built?
Whether your goal is to replace one system entirely, consolidate a few technologies or just evaluate the ones you are currently using, these questions will help you get the answers you need to make decisions.
If you are in the process of evaluating new technologies for your restaurant, check out our 2016 Enterprise Restaurant Technology Buyer's Guide. It is made specifically with multi-location restaurants in mind and highlights 25 different technologies that have unique enterprise functionality.