By Jason Chen
Modern restaurateurs have a lot on their plate, having to strike a perfect balance between business savvy and remarkable creativity. Today's challenges include keeping up with the latest foodie trends, venturing into the brave new world of social media marketing, while still managing day-to-day operations. It gets overwhelming. Luckily, with Web 2.0's fast-paced changes comes a wealth of information to help you get by, whether you're looking for stand-out cocktail recipes or practical tips on minimizing spillage. If you're looking for tips and advice on how to stay afloat in the restaurant game, start with the 10 best newsletters in the restaurant industry.
Food & Wine
In the process of crafting an impeccable, mouth-watering menu? If you've got ambitions to offer more than the ordinary sandwich lunches or 2-ingredient cocktails, then look to Food & Wine for inspiration. The popular blog and newsletter for restaurant owners helps an astounding number of 988,000 twitter followers keep their menu game on point, educating them on the Millenial Generation's culinary obsessions such as craft beers, kale recipes, and Sriracha.
Nation's Restaurant News
Nation's Restaurant News, an award-winning magazine since 1967, does exactly what you think it does, fantastically and comprehensively. With editorial teams in America's busiest cities from New York to Chicago, NRN coverage is up-to-the-minute on all sides of the restaurant industry, from the most popular desserts on the market to supply chain innovations in the big corporate world. To put it simple and sweet, NRN is a newsletter for restaurants that need to know what's hot and what's not.
Restaurant Business Online
While other newsletters are helping out restaurateurs by covering restaurant news and trends, Restaurant Business Online excels by offering practical, well-calculated advice for the goal-oriented restaurant owner. If you're looking to boost sales, minimize costs, and keep customers happy, Restaurant Business Online has the know-how to get you started. The restaurant blog covers everything from employee uniform strategy to how to price champagne. Check out their 50 Great Ideas page to learn about the hottest innovations that successful restaurants are using.
Aaron Allen
Aaron Allen prides himself as an idea man, having been featured in global media outlets such as Forbes and Time Magazine as a hot shot in restaurant consultancy. His company's blog is an exceptional source for restaurant owners who are still getting acclimated to social media marketing, letting you know what works for corporate brands such as Taco Bell and how to learn from their success.
Pinterest
Now that you've crafted the perfect menu and improved your social media savvy by browsing web advice, it's time to think about how to keep your restaurant interior design hip and with-it, because ambience sells. While Pinterest isn't exactly a traditional restaurant newsletter, searching "restaurant interiors" will provide an outstanding curation of design ideas to get you started. It's simple, and it's effective.
BarMaxx
Looking for new ways to incorporate mobile tech into your business strategy? Wondering if iPad menus are a practical option? Be sure to scroll through BarMaxx, a blog dedicated to the technological side of running a restaurant. The blog is much younger than other sources on this list, with posts going back to about 2012, but BarMaxx has found a niche that the restaurant industry blogosphere definitely needs more of.
Next Restaurants
Next Restaurants boasts a comprehensive understanding of the current digital marketing climate, and they go above beyond to sell you on their unabashed honesty. There's a plethora of restaurant blogs and newsletters out there, but Next Restaurant is one of the few outstanding blogs that doesn't want to "point you back to [its] product or services," with the sole goal of helping small restaurant owners flourish. Next Restaurant not only has the ideas to get you started, but it has step-by-step guides to help you follow through, and its "Ultimate Guide" to restaurant branding might arguably be the only source you need to build a comprehensive marketing strategy.
Smarts by Buzztime Business
You might recognize Buzztime if you've ever been to Buffalo Wild Wings, powering their trivia minigames for patrons to pass the time between ESPN commercial breaks. Via the company's blog Smarts, Buzztime now provides even more creative solutions for business owners in need of a sales boost. The blog has a unique, key insight into sports bar culture that makes it an invaluable resource. For instance, ever think about Starcraft viewers as an alternative source of revenue? Buzztime can help.
SeatMe Marketing Blog
SeatMe, powered by Yelp, has been a leading industry solution in helping restaurateurs convert their reservations and seating systems into something more modern and iPad compatible. The company blog is especially savvy at helping you fill the tables, whether it's by Pinterest or the company's sister app Yelp. Once you've filled the tables, take the next step and look into installing SeatMe at the hostess' desk.
Running Restaurants
If you're looking for further operations advice from the restaurant industry's leading consultants, and if you paying for it is an option, then be sure to check out Running Restaurants. With a comprehensive library of over a thousand articles, hours of webinars, and further whitepapers, a tiny investment in Running Restaurant's wisdom might just pay off.
Rockbot Blog - Bar & Restaurant Marketing Insights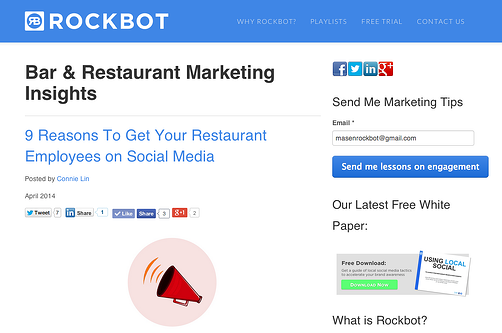 Good news! If you've loved what you've seen so far but still aren't quite satisfied yet, Rockbot is constantly providing quality advice content on its own Restaurant Owner's Handbook. Need to know what bar games keep the customers coming back? Trying to start a hookah bar? Rockbot knows what to do. Be sure to ask us first if you need expertise on improving the music and ambience of your venue. We're more than happy to help.